Storytelling:
Repurposing visual content.
Image: Social Cut on Unsplash
We all know that creating enough marketing content can be extremely time consuming.  Here's an example of how I've recently combatted that in terms of repurposing visual content and having a variety of sources for my graphics and visuals.
My Objective
I wanted to create some content to re-engage with businesses as lockdown is easing.  I also wanted to talk openly about how our experience of Covid has been in terms of our company – as much to build empathy with our audience as to show more of who we are.  Also of course this lets people know that we are very firmly still in business and open for work.
The Issue
The problem of course is that we have only been working remotely, when we were actually active – and recent content in those terms is limited.
The Content Solution
To produce a story type piece of content that uses visuals from a range of easy to access sources (which I already have as my go-to's).  The story is a cartoon style piece in order to keep it short and sharp.  I have also re-purposed old content and will be breaking this up into segments to use across social channels.
NB. I've indicated to the right of the images in blue where the visuals are from to give you some ideas about how to source your own.
So, here you go – let me know what you think and I hope it inspires you.  I'd also LOVE to hear how things have been and are going, for you in your business/role.
The beginning of the year was busy for us, and we had no real reason to think that wouldn't continue.
Repurposing old Vervate stock.
This video is one I took on my mobile phone whilst assisting Liz on a shoot in Hastings.
Once lockdown was looming, the supermarkets ran out of all sorts of things.  Still not sure why us humans got so uptight about loo rolls.
Non professional from my mobile.
I grabbed this really quickly on my phone whilst still trying to grapple with a mask in the early days of mask wearing.  My glasses were completely steamed up!  This image isn't showing off a star product of mine, or intended as a key image.  But it does the trick here, it tells the story.
Everything was cancelled in our diary for virtually a whole year as the country locked down.
For a couple of days, still reeling, we reverted to jigsaws, caring for our nearest, and struggling to decide how to continue with the business.
Non professional from my mobile.
A mobile phone photo, with the colours pumped up on an app Snapseed.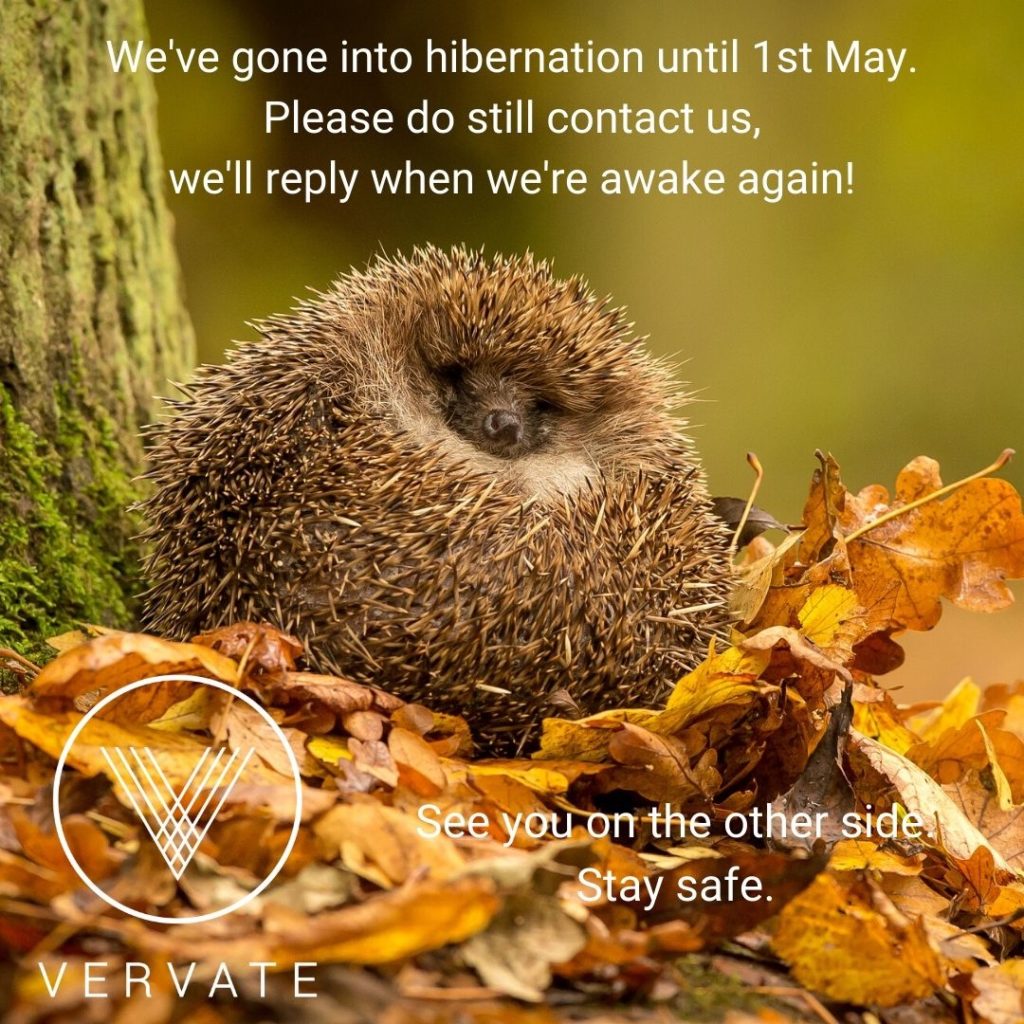 The initial shock was closely followed by letting our business community what was happening with us and posted some content like this.
We then went straight into 'what can we do to help' mode.  We did some remote work with local charities and companies like this video for St Giles,  signed up to be Volunteers, and threw ourselves into doing things we never usually got time to do.
Like getting fit, enjoying our environment more and starting an art business.  I also wanted to learn Spanish but only got as far as manzanas (apples)!
Repurposing content.
St Giles sent me footage from Zoom recordings, and stock they already had so that I could create a video for their new students.  I edited it all together and filled in the blanks with stock imagery.
For the brief period of time between lockdowns, we also picked up with some long term clients, which was amazing.  By this time we had developed a full Covid Policy and scrupulously risk assessed each job before taking it on.
From our portfolio.
This is a short video we produced between lockdowns in 2020 for Churchill Square Brighton.
Personally, we suffered a loss in the family.  Like it was for everyone else, 2020 was a rollercoaster.
Non professional on my mobile and stored for future use.
I had this image in my storage system.  It was taken a couple of years ago – again on my phone.
We create an annual Showreel – which proved a tad tricky what with so much work having been cancelled!  I managed to pull this together though, which demonstrated the reality of our story in 2020.
Mixture of work we fitted in between lockdowns and stock.
We've spent months refreshing our business, checking in with those in our business community (many in new posts) and clarifying our offering in this new world.  We have a full Covid Policy which we keenly adhere to.
Old work sample stored for future use.
An image that is from a set we did with a client to illustrate their strong relationships with their own clients.
We are ramping back into action fairly rapidly now.  Adapting and shifting as we go, but nothing new there!
We've just agreed on our Charity (disclosure there's 2 of them!) of the Year for 2021 and are starting to proactively market to new clients at the moment.
Hope to see you at some stage this year, and that you too are coming into 2021 in an ok place.
Repurposing old content.
Gif created using Canva Pro from an old set of professional photos so that our key audience would recognise the locality and story of the image.
Yes, it helps to be a visual content agency and have lots of professional photography and video content to hand.   Not as much as you may think, because we don't use an awful lot of what we produce – that's for our clients.
However, we do have a wonderful amount to hand.
The key take away here though, is that you need to think of having go-to sources for your visual content to hand.  Spend time organising who/where/how you can source the assets and then keep them organised when you get them! 
Being organised is really so valuable.
I'd love to see your stories….
Grab some tips about repurposing
your visual content here.